IMITATION FOR VLADISLAV KHODACHEVICH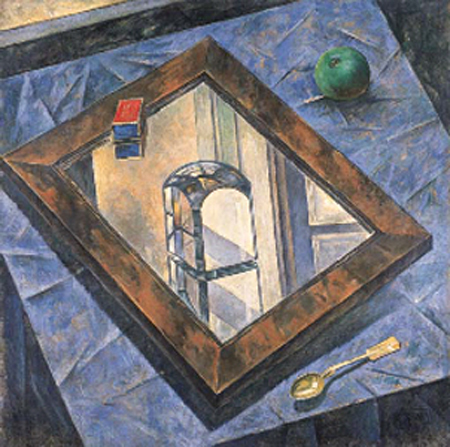 Those mornings, I would wake up too late.
No sun, no cell phone
Ever roused me. Melancholia
The high and ancient illness,
In Morpheus' clutch constrained me.
I dreamt that there was no Being.

The dumbest dream! And what a joy,
That Parmenides wrote poetry. Being
Cannot "be" or "not be," it is not an object
But a concept, а prison for meaning, and reality
Is always fickle, and that which was a "cat"
In one iteration, will not remain a "cat"
After one more stir of the paws.

And that is why speech will remain unbearable,
Until it gains the right
To performatively lay down the law.

I thought of you, and I woke up.
On the table were flowers in a vase.
A voice came to me: in another life,
Go to bed at eight, wake up at eight
Like all poets, study antiquity.
And study generative grammar
And no pragmatic linguistics!

…With what kind of text can I express
how measurements flare up through one another?

*

[further—
—a fragment, written in a different style.
This poem would be better without it]

*

they say
"yes, he's sexist, but an excellent analyst"

they say
"any means are good means at war with the police state"

they say
"we're LGBT-friendly"

they say
"remember Pasolini's poetry?"

they
call themselves "heterosexuals"

they
are just afraid to love

*

You look like Alexander Skidan
says she

Polina Aronson speaks
About love, which looks like a dream

A push, falling to the bottom
Luna sings

put your finger in my mouth
(and the other way around)

*

Eros does not sleep. Eros reads the Jena
Romantics, because he knows well:
the Psyche lives in non-causal
prosaic repetitions (By the way,
how is this positioned
topologically?)

Wounds appear on semantemes,
and potentially in language too,

(and
therefore we know about this)

That Lyuba Sobol will kill
Our tyrant—and she will eat his heart.

We sleep. But even in our dreams, as Montlevich says,
We react to exterior light
And will move bodies and objects
Through a liberative, clarifying stream.
Sleep, little cat. Let the war leave.


Translated from the Russian by Signe Swanson.
---
NIKITA SUNGATOV was born in Prokopyevsk in 1992. His poems and essays have been published in the journals [Translit], Vozdukh, and New Literary Review, among others. He is the author of a book of poems entitled "The Young Author's Debut Book" (Saint Petersburg, Free Marxist Press, 2015). He was a semifinalist for the Arkady Dragomoshchenko Prize in 2015. Currently, Nikita serves as editor of [Translit]'s poetry board and also works on the editorial board of "Greza." He is also currently working as a co-curator for the Arkady Dragomoshchenko Prize. He works as a schoolteacher, teaching the Russian language and literature. Nikita lives in Saint Petersburg.